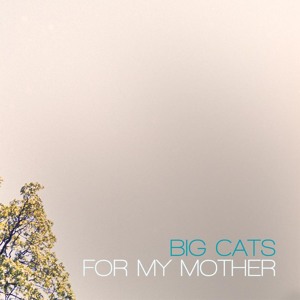 This is the new LP from producer Big Cats straight out of Minnesota. No features, all instrumentals. The emotion of this record bleeds while you listen. Expect to have a little bit of blood on you when you have finished listening to this album. The album was dedicated to Big Cats' mother, who died in 2010 of Ovarian Cancer. Cats' musical roots stem from his mother. He has constantly mentioned his mother as his biggest musical influence. Constantly pushing him to do better and learn more. She had handed over her taste of classical music to him and Cats' has fused that with some modern day influences to create For My Mother.
It's a ten track project and each track is named One, Two, Three etc. I like that he really took out the names. It lets your mind really interpret how each track makes you feel more so than when there are titles. This album is a perfect mix of Big Cats' musical styles. The entire album is very mellow but he maintains to mellow flow in different ways. In track six, he utilizes piano, horns, guitar strums etc in a very smooth manner. Which transitions to track seven which brings electronic synths into the forefront and is actually accompanied by an orchestra sample. It's such an aesthetic piece of work but if you don't pay attention while listening, it will all drift on past you. You know how at maybe a restaurant or a venue like that may have really smooth background music playing? That's kind of how this record feels to me. But just when the record gets too laid back, he incorporates a couple of nice looping vocal samples to keep the listener intent.
See, this piece is a lot more than just beats. I hate when people just call instrumentals "Beats". Not everything needs an emcee spewing some stuff onto a track. This is too good of a masterpiece to be ruined by vocals. This album is something that you have to listen to in full. It sounds a hundred times better when you listen to the album from start to finish and that goes along with my one gripe about the album. I wish there was bridge between each track just so that there is never a pause in the music. I feel like that would make it feel even more like a one track project that you can't pause. Now I think Big Cats succeeded. If I was just sent this mp3 of all these tracks no titles, not even an album title, I could point out how the record takes on a gloomy, heavy-hearted theme. The horns don't cry out their exuberance, they cry of a different tone. A melancholic tone.
In conclusion, the project does get a little droll at points but it's such a smooth, mellow record that I still really enjoyed it.
Rating: 7.9/10