4. E-40 – Grit & Grind
Grit & Grind, released in 2002, was the first majority hyphy record that E-40 released. Mostly gone are the funky and mobb-sounding vibes of his 20th century work, and on to a new sound pioneered by Rick Rock, who handles much of the production on Grid & Grind. The bounciness and high energy of early hyphy music fit E-40 perfectly. His rapid-fire, goofy flow fits terrific over the beats on here, and he is basically rapping at the highets level since his first two albums. Guests include a prime Fabolous, Bun B, Lil Jon, 8Ball, Kokane, Keak da Sneak, Suga Free and even Afroman.
Essential Tracks: Automatic, Til The Dawn, Rep Yo City, It's a Man's Game
---
3. E-40 – Tha Hall of Game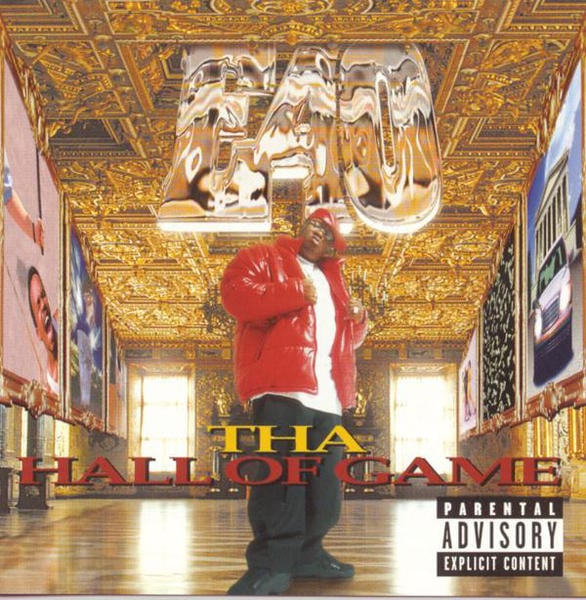 Tha Hall of Game is E-40's third album, and keeps true to the funky mobb sound that he had developed over his previous two albums. Really, this album is not too different from his first two records sonically, and E-40 is still rapping well, but too many features appear on this record, including a lot of rappers that had no business ending up on an E-40 record (including mediocre Warren G affiliate Bo-Roc and convicted cannibal Big Lurch), and in the end, this 70-minute record could have benefited from being cut down to 50 minutes or so. However, the best tracks on here stack up with some of E-40's best, and that alone puts it above most of his other records.
Essential Tracks: Rapper's Ball, Million Dollar Spot, Ring It, Circumstances
---
2. E-40 – Federal
Federal is E-40 at his finest. His debut album, released in 1993, is produced almost entirely by Studio Don, one of the gods of the mobb music that 40 helped bring to prominince around this time. All the beats on this album are at least good, with some ranging to amazing, and E-40's wild flow (easily the craziest of his career) is rampant all over this album. Being everyone's first exposure to 40 as a solo artist (this came one year after the debut from The Click), he often comes off a little abrasive on this album and can be difficult to understand, but when you get the grasp on the lyrics it's hard to put Federal down. Nobody combined punchlines and storytelling as well as E-40 did during this time.
Essential Tracks: Outsmart the Po Po's, Carlos Rossi, Questions, Rasta Funky Style
---
1. E-40 – In A Major Way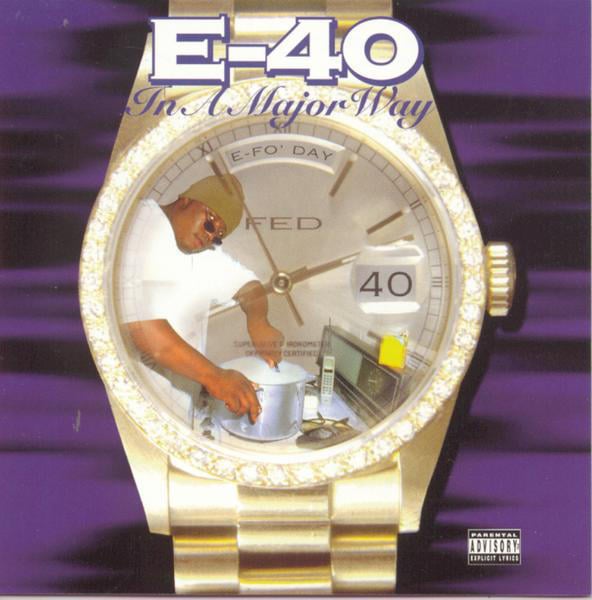 You want that funky shit? There is no better hip-hop album – period – to find the perfect balance of terrific funk beats and top-tier rapping than E-40's magnum opus, In A Major Way. One of the finest works of rap music ever, his 1995 sophomore release epitomized everything that makes 40 such a great artist. Studio Ton is back to handle much of the production, and not only did he improve his beatmaking skills, but Mike Mosley & Sam Bostic, two other extremely talented mobb music producers, join in on the fun here to create one of the strongest-produced hip-hop albums ever. The production is simply the icing on the cake, however – the main attraction is the terrific rapping all throughout the record. E-40's flow is not as crazy as it was on some of his the albums to follow this, but he's still rapping at an unreal level, both with his great punchlines, large variety of flows and diverse topics. And just to add on, the guest list reads like a Hip-Hop Hall of Fame: 2Pac, Spice 1, Mac Mall, Celly Cel, B-Legit, among others. There's very little to complain about on this record; an essential for all hip-hop fans to own.
Essential Tracks: Sideways, H.I. Double L., 1 Luv, Dusted n' Disgusted, Dey Ain't No
---
Essential Tracks: Top Songs From Best E-40 Albums